---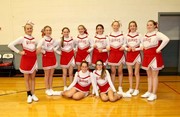 1st Row (left to right): Harleigh Lewis, Addi Riley 2nd Row (left to right): Kendra Zeilstra, Sidda Wilson, Kinley Elliott, Jocelyn Richardson, Cameron Jackson, Hannah Rice, Christine Kussmann, Raeana Haugh.
---
Jr. High Cheerleaders
The Jr. High Wildcats and Lady Wildcats are cheered on by the jovial Jr. High Cheerleading Squad. Cheerleaders are coached by Ms. Tara Britton.